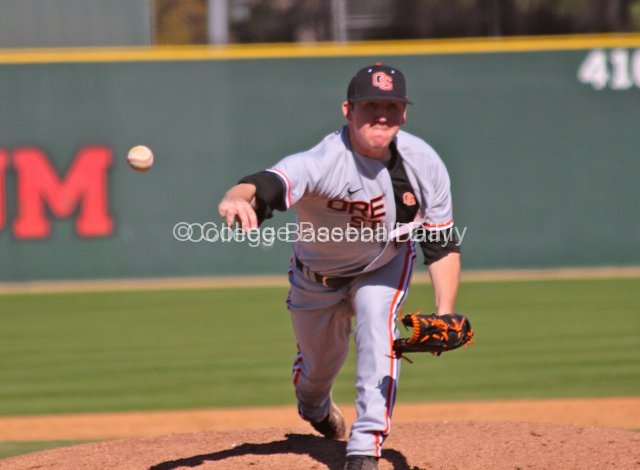 SAN DIEGO — San Diego State knew playing a top 10 team early in the season would be tough challenge, but the Aztecs didn't expect to be completely shut down.
That was the case, however, as No. 6 Oregon State finished off a dominant four-game sweep with a 7-1 victory on Sunday. The Beavers improved to 8-0 outscoring San Diego State (3-4) by a 22-2 margin in the series.
Oregon State's starting pitching had been the main Aztec bane in the first three games of the series with Dan Child, Matt Boyd and Andrew Moore allowing just 14 hits and one run in 22 innings of work. But on Sunday it was relievers Brandon Jackson and Scott Schultz.
After starter Clay Bauer went 1 2/3 innings, right-handed sidearmer Jackson gave the Beavers 4 1/3 scoreless innings, allowing four hits. He was followed by three scoreless frames of Schultz, who picked up his second save of the season.
Oregon State head coach Pat Casey said Bauer was scheduled to pitch up to two innings and then turn the ball over to lefty Tyler Painton, but with back-to-back right-handed batters due up, he called Jackson's number first. With Jackson rolling through the middle innings, Casey left him in the game.
"He just kept getting guys out. We didn't have it planned," Casey said. "We didn't have it scripted. We were actually going to go to the lefty, but Brandon just kept throwing the ball where he needed to and got some big double plays."