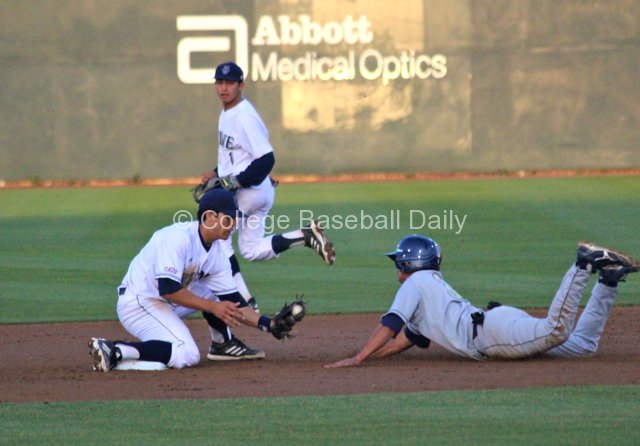 IRVINE, Calif. — UC Davis closer Max Cordy had already unleashed a wild pitch while attempting to intentionally walk a batter, so UC Irvine couldn't risk trying a suicide squeeze in the bottom of the ninth inning. Instead, with runners on the corners, pinch hitter Ryan Cooper was called on to put down a safety squeeze.
But Cooper laid down a great bunt and pinch runner Justin Castro got a great read. Castro sprinted down the line and slid into UC Davis catcher Izaak Silva, who blocked the plate expertly. However, Castro was able to slip his foot through the five-hole and tapped the corner of home plate with his tippy toe to give Irvine a 5-4 walk-off win Friday night at Anteater Ballpark.
Castro ran for Jerry McClanahan at first base after McClanahan drew a leadoff walk. Castro moved to second on a Scott Gottschling sacrifice bunt and advanced to third on Cordy's intentional walk throw that went over the head of Silva and all the way to the backstop. After Kris Paulino's intentional pass was completed, Cooper was sent to the plate to pinch hit despite not having a hit since March 8 (0-for-24).
Cooper still doesn't have a hit, but he does have a walk-off game-winner to his credit. Continue reading →