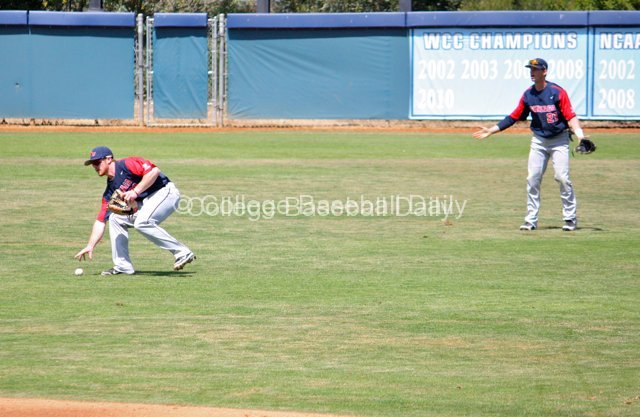 SAN DIEGO — Royce Bolinger's feet flew up in the air as he slid six to eight feet across the grass in centerfield at Cunningham Stadium. The second inning line drive San Diego's Victor Rasor-Thompson had hit was firmly in his glove throughout the entirety of Bolinger's dive. But as he pushed himself to his feet, the ball shot out of his glove and rolled toward the infield.
Though Bolinger had controlled the ball throughout the catch and the entire Gonzaga (20-9, 3-3) team was already headed toward the first base dugout, the umpires ruled there was no catch. Bolinger stared at the umpires with his arms in the air. Left fielder Brock Slavin retrieved the ball, his glove in his hand rather than on it after he removed it, also thinking the inning was over.
Instead of a spectacular inning-ending catch, Rasor-Thompson was credited with an RBI-double and scored on a Louie Lechich single to tie the game 2-2.
With the help of the controversial call that Gonzaga coach Mark Machtolf vehemently argued for nearly five minutes, No. 21 San Diego (25-8, 7-2) defeated the Bulldogs 5-3 Saturday afternoon to win the important West Coast Conference Series. Continue reading →