FROM CBD NEWS SOURCE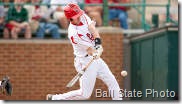 MUNCIE, Ind. – Ball State baseball first-year head coach Alex Marconi announced a 52-game schedule for the 2011 season Tuesday afternoon, including 21 games at Ball Diamond. The Cardinals return 18 letterwinners from last season's team that posted a 19-8 record in Mid-American Conference play.
The Cardinals open the season February 18 as they begin a three-game series at Kennesaw State in Georgia, marking the first ever games against the Owls. Ball State continues its season-opening 14-game road stretch February 25 with a three-game series at Southeast Missouri.