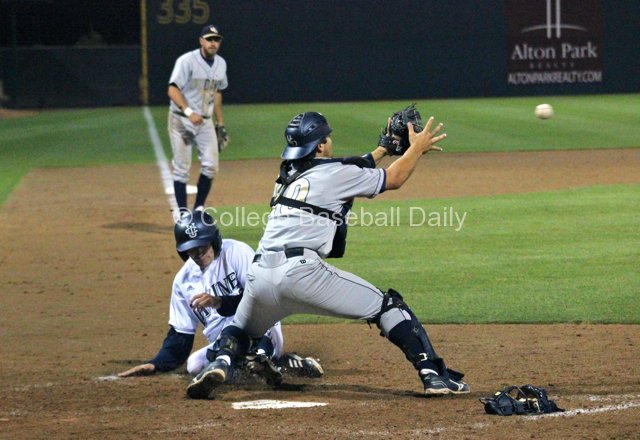 IRVINE, Calif. — Ryan Cooper may not have a hit since March 8, but that doesn't mean the UC Irvine coaching staff doesn't have faith in him. Cooper pinch hit with runners on the corners with one out in the ninth inning and laid down a perfect safety squeeze.
UC Davis catcher Izaak Silva did all he could to block the plate, but Justin Castro got his foot between Silva's legs and toe-tapped the plate to give Irvine (26-12, 8-5) a 5-4 walk-off win Friday night at Anteater Ballpark.
The Aggies (15-24, 3-10) and Anteaters traded the lead back and forth before Taylor Sparks tied the game in the sixth inning with a home run over the left field fence. Neither team scored in the seventh or eighth innings, setting up the dramatic walk-off squeeze.
Mitch Merten picked up the win in relief for Irvine. Anteaters ace Andrew Thurman looked brilliant at times and easy to hit at times. Neither he nor UC Davis starter Harry Stanwyck factored in the decision after both allowed four runs in 7 2/3 innings pitched. Only three of Thurman's runs were earned, but he allowed 11 hits.