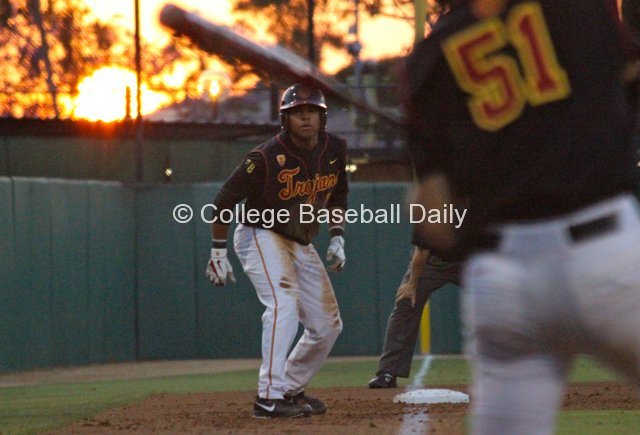 LOS ANGELES — It isn't an otherworldly being the Ghostbusters are chasing. It isn't a crazed swamp creature that ends  up on your front lawn. But the turf monster is something all ballplayers fear for it can strike at any moment and when it does, there's usually little that can be done.
Even a senior playing a rivalry game on the day of his graduation isn't immune. The turf monster reared its ugly head and took a bite out of USC second baseman Adam Landecker helping UCLA to a 2-1 victory Friday night at Dedeaux Field.
Landecker became a turf monster victim with two runners on base in the ninth inning of a tie game. The runners took off running as Brent Wheatley delivered a pitch to Kevin Kramer, who hit a hard grounder to Landecker's right. Landecker slid to stop the ball and tried to pop up to his feet. When he did, a huge sod patch gave way and popped up with him.
The senior appeared to lose his balance as he tried to rise to his feet with the earth giving way while he simultaneously tried to pull the ball from his glove. Instead the ball shot out of his glove to his side. The botch was all speedy pinch runner Brett Urabe needed to get home with the winning run. All-American closer David Berg pitched a perfect bottom of the ninth to lower his ERA to 0.63 and record his 14th save of the season. Read the rest of this entry »